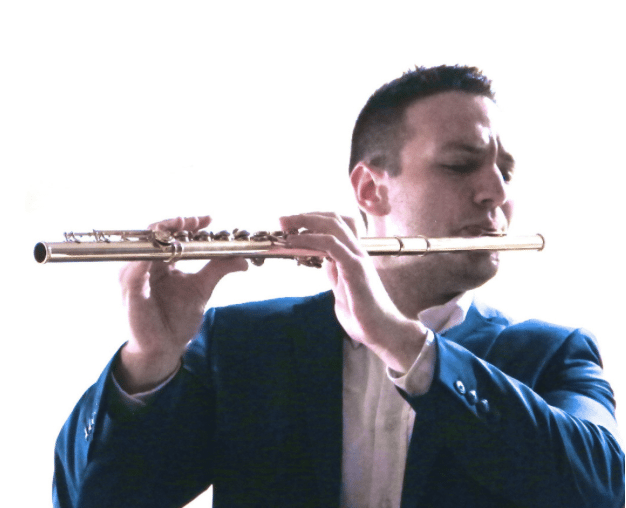 Interview with Principal Flute of Fort Worth Symphony - Jake Fridkis
Jake Fridkis, a graduate of the Cleveland Institute of Music and the Yale School of Music, won his position with the Forth Worth Symphony just under a year ago.  We ask Jake about his experience playing with the orchestra, his audition preparation process and the situation of the current strike.
How long have you been playing with the Fort Worth Symphony and what have been the greatest highlights so far?
I joined the FWSO in December of 2016. Two highlights were recording the Brahms/Schoenberg Op. 25 Piano quartet and two Prokofiev concerti with Vadym Kholodenko the week after my audition and an amazing concert week where we paired Beethoven's Third Symphony with music by Mason Bates which complemented each other brilliantly, led by our Music Director Miguel Harth-Bedoya.
How was your audition day?  What do you think gave you the edge that helped you win the job?
The audition day itself was kind of a blur. I try to be as relaxed as possible on audition days. I'm a pretty laid back person so when I focus on the importance of the audition it adds extra pressure and isn't natural for me. I don't know about an edge but my approach is to let go and make music. One thing that is really important to me is sound quality so I focus on making the most beautiful sound I can on every note. Then I try to actually have some fun and show the committee who I am as a musician and not just that I can play Peter and the Wolf really fast.
Did you have a specific process you followed in your audition preparation?
I always practice very slowly. This allows me to focus on sound, note connections, and air. If I practice too fast, it is easy to miss these things. I like to work on other music when I'm learning a list to keep myself fresh and thinking about musical lines. I also try to work on my fundamentals a lot during audition preparation because if my fundamentals are good then everything else seems to fall in line.
How have the first few months of the job been? Is it what you expected?
It's been an amazing experience. I feel very lucky to be able to work with such inspiring colleagues every day. I have learned so much from all of them already and I love playing music with them. FWSO is special in that it is a very tight-knit group. I could not have dreamed of a nicer, more supportive group of people to work with every day. That being said, the job is a lot more work than I ever could have imagined. We currently don't have an assistant principal flute, which means that I play everything that comes up. Some weeks I will be learning three programs for the next week while performing our current program. Managing my practice time and mental practice is essential to keep pace with such an intense schedule. I spend lots and lots of time listening to upcoming repertoire. It is the first time in years that I am not teaching and don't have any additional obligations, yet it is the busiest I've ever been in my life.
In your own words, can you briefly summarize what is happening with the Fort Worth Symphony currently? 
The musicians of the Fort Worth Symphony Orchestra called a strike. After over a year of negotiating we were presented with a final offer that didn't live up to what we believe we deserve or the industry's standards. Our concerts have been canceled through November 6th at this point so the musicians have been independently organizing concerts throughout the Fort Worth area. A few of the weeks that were canceled were planned for educational concerts so musicians from the symphony have been volunteering to go to the local schools and perform for the students because we believe very strongly in the importance of music education and that it should continue even in these circumstances.
What can people do to support the Fort Worth Symphony musicians during this difficult time? 
We have a Go Fund Me page which has currently raised over 25k. We have another Go Fund Me page geared towards small donations called the 109 project. I would encourage everyone to contribute to either of these funds or to come to the events that we are organizing during the strike if you live in the area. https://www.gofundme.com/fwsomus109project
I believe it is very important not to define who you are as a musician on the results of an audition. Every audition is a new experience. Approach each one as an opportunity to improve and work on things you want to do better as a musician. For example, if you are not happy with your high register in Daphnis and Chloe, then it is a good opportunity to work on it outside of that context and then bring those improvements to the excerpt and not just try to fix it for the audition. If you take this approach, there will be no such thing as a "failed audition" or a "waste of time" because you will have improved as a player through your hard work. I really believe in the power and relevance of classical music. It is not easy to get a job and it can be frustrating. Don't let yourself become jaded. Remember why you wanted to play music in the first place and what made you love it. If you play from that place of love, you can't possibly go wrong even if a committee doesn't pick you on one particular day. Believe in yourself, you can do it.
BIO
Hailed by the Dallas Morning News for his "radiant tone and generous expressivity", and the Fort Worth Star Telegram for his "musicianship, clear sound, precise intonation, and empathic dynamic levels", Jake Fridkis has quickly established himself as one of the leading flutists of his generation.  Before graduating from the Yale School of Music, he won the principal flute position in the South Dakota Symphony where he played for two months before winning the same position with the Fort Worth Symphony where he is currently principal. He has performed as a concerto soloist in Germany, Italy, France, Brazil, and throughout the United States. As a guest flutist, he has performed with the St. Louis Symphony, Symphony SONG (Korea), the New Haven Symphony, and the Princeton Symphony.  Jake earned his Masters and Artist Diploma degrees while studying with Ransom Wilson at the Yale School of Music, receiving the coveted Thomas Nyfenger memorial prize for highest achievements. His other studies have been at the Cleveland Institute with Josh Smith, and at Aspen with Mark Sparks. Jake plays on a 14k Haynes Flute and is a Haynes Artist. Jake can be heard on multiple CD's on Harmonia Mundi with FWSO and on his recording of Beethoven Flute Sonatas and duo with Ransom Wilson for Naxos.