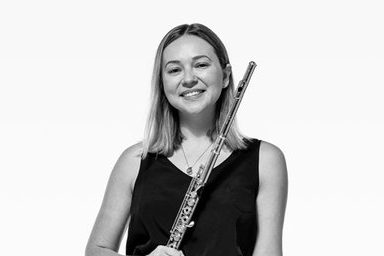 Interview with Recent Chicago Symphony Second Flute Winner
Emma Gerstein, principal flute of the Auckland Philharmonia in New Zealand, has recently won the second flute position in the Chicago Symphony.  We talk to Emma about her experience playing with the orchestra, her audition preparation process and ask her for general audition advice.
How long have you been playing with the Auckland Philharmonia? Is the experience what you expected?
I applied via an "expression of interest" last December, and I moved to Auckland to do a 5 month contract starting in February.  The audition for the tenure-track position was in April.  It's been a joy to live in such a beautiful country, even for such a short time, and to get to play in this orchestra.  I adore my colleagues!
What have been some of the highlights playing with the orchestra?
Our Music Director, Giordano Bellincampi, was also new to the APO last season.  He is so wonderful at pushing the orchestra to play to the highest standard.  He expects so much of us, which makes me want to be better all the time.  When he's on the podium, there's a real sense that he's listening and reacting to what's going on, and that he loves the music.  We did a semi-staged version of Verdi's Otello with Giordano last July, and it's a performance I will definitely remember forever.
How was your audition day for the Chicago Symphony? How did it compare to other auditions you have taken?
The prelim round was in November, and I flew back to Chicago from Auckland a few days before.  I was worried about how jetlag may impact my playing. I had never traveled so far for an audition before (I had already been in NZ for 2 months before the APO audition), so I felt more pressure than usual because I had invested more.  Also, this was a job I wanted more than just about any other I'd ever gone for – for all of the obvious reasons, but additionally because I grew up in Chicago. On the day I felt the normal nervous audition feelings, only amplified by about 10.
How did you feel after your first round?  Did you expect to advance?
I thought I played well, but I really wasn't sure.  Some things didn't go according to plan, but others went well. I was hopeful but not super confident. When they announced my number I was so relieved, but then also instantly stressed again.  The finals were almost 3 months later, so I knew I'd have to keep practicing the list.
What are some musical factors that you believe help set musicians apart at an audition?
I was able to sit on an audition panel in the APO as a non-voting member, and it was really interesting to be on the other side of the screen.  I think many people are consumed by the technical process of playing their instrument, and they forget that they are making music.  Of course one should strive to play in tune, in time, with a nice sound, etc.  But I think what really sets someone apart is also showing musical style, phrasing, and making that unique and personal to you.  No one wants or expects to hear total perfection, and I think committee members can be more forgiving about small mistakes than I had assumed.
How did you prepare for the audition?  Did you follow any kind of regimen? 
I wanted to feel really comfortable with the list, which was massive, so I started about 6 weeks before the prelim. My normal audition m.o. was to procrastinate and then cram, which was occasionally successful but mostly just made me feel super stressed. I worked to maintain my fundamentals during this time – practicing exercises for articulation, vibrato, as well as scales, long tones, etc.  I listened to the pieces A LOT.  Even the ones I felt I knew well. It's a good reminder of the context, and it helps to keep everything feeling fresh, even if you've played the excerpt literally thousands of times.  I also tried to take care of myself, both physically and mentally.  I cut back on coffee and alcohol, and tried to sleep enough and to get exercise.
What advice can you offer to those on the audition circuit?
Don't compare yourselves to others.  I wasted so much time either validating myself or putting myself down based on how other people were doing around me.  There's no sense focusing on this. I was very inconsistent for a long time.  I still don't know why I did "well" in certain auditions, and not in others.  So much of this process is totally out of your control, and whether or not you advance or win does not define you as a musician or as a person.
BIO