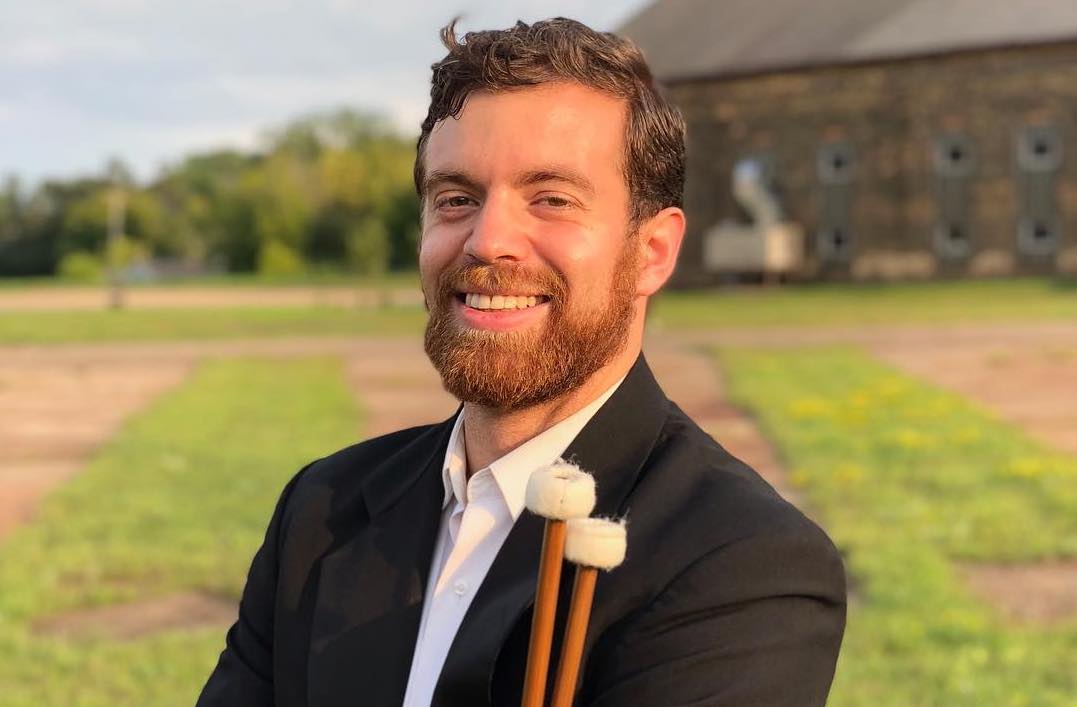 Interview with The New Principal Timpanist of The Minnesota Orchestra, Erich Rieppel
Meet Erich Rieppel, the recently appointed Timpanist of the Minnesota Orchestra and an alum of the New World Symphony.  We ask Erich about how he prepared for his audition, his experience with Minnesota and for general audition advice.
How many auditions had you taken before the Minnesota Audition?
I believe 24 if we're counting regional, substitute, and fellowship auditions.
How did you prepare for the audition? Did you follow any kind of regimen?
My regimen was very developed by this time because of the insight I had gained from previous auditions. I started preparing almost as soon as I heard I was invited, which was almost 4 months out. I planned out a month of intense practice then a few weeks of little practice but more mock auditions to collect feedback from a variety of people, certainly including non-timpanists or percussionists. Then a week break. Then another month or so of intense work. The final few weeks were for confidence and comfortability, but Miami Beach, my residence at the time, was to be hit by a hurricane. I evacuated to Charleston where I thought I had a place to practice..til Charleston was evacuated. Against my will, I barely practiced leading up to the actual performance. This may have been a good thing; it allowed me to embrace unpredictability as an important part of the process.
Regarding specifics, I experimented with many ways to practice. I grew to know what would work for me and each excerpt, emphasizing my weakest aspects of playing with great humility. I was particularly interested in adversity training; playing long mocks, memorized and close to achieving whatever refined musical statement I wished to present.
How many Timpanists were at the audition? Did you know many of them?
Not as many were invited to this one..maybe 40. I got in after making a recording initially. I knew most of them.
How did you feel after your first round? Did you expect to advance?
Not great and no. My hypersensitive and critical ear guided my judgement.
What was asked of you in the final round and was the screen down? How were you feeling at this point? Was there anything that threw you off?
The screen was not down in the final round. After advancing, I perhaps had too much confidence and would "go for it" a little too much in my final round, but I was still eventually given a trial period with the orchestra. They asked for many things to be played differently and I tried to do it without going berserk with any of their requests.
Can you explain how the trial processed worked for you and the others that were being considered?
I played two weeks in a row with the Minnesota Orchestra which included an orchestra round. The orchestra round had 10 fairly standard timpani excerpts.
How did you feel during your trial? What did you play and how did you prepare?
I tried as much as possible to feel like it was just another day.  Of course I was slightly nervous, but I had prepared for that.  My preparation was aiming to be undeniable but flexible in any condition.  The first week was an arrangement of the Bach Chaconne, a new piece by John Harbison and Saint-saens Third Symphony.  I played my orchestra round after the 2nd day of rehearsals.  The next week was Der Rosenkavalier, Prokofiev First Violin Concerto, and Brahms' First Symphony with a guest conductor.
My preparation involved a variety of tactics… I played with many recordings with a speaker; put the speaker at different distances in front of me; play with it in front of an audience and record it; I'd send my recordings to percussionists and certainly non-percussionists for feedback; I organized an orchestra reading at NWS; even played the arrangement of the Chaconne with a violinist.  But of course, nothing beats experience and the instincts developed from playing in so many different groups.. The experience I got from Indiana University, NWS, substitute work and even the regional groups all contribute to the instincts required to play with a great orchestra.
Do you believe people should take auditions just "for the experience" or always with the mindset that they could win?
Always with the mindset that they could win, but I would reframe that; with the mindset that you can perform the music to the best of your capabilities. Don't take auditions trying to just win or advance; focus on the music and the performance.
What advice can you offer to those on the audition circuit?
I'll just drop a few random aphorisms here: Never lose faith in yourself or the music. If you're reading this, you likely know all the ways to improve, you just have to do it. Try not to get obsessed with results; focus on how you can improve. Always be curious of what the music means or could mean. Find friends in the circuit; makes it much more fun. Think of the audition or experience almost as a vacation; you've done all your preparation, now you get to just play. No matter the result, at least you're in a new city and hopefully enjoying it with some friends from the circuit.
When not practicing and playing concerts what do you like doing for fun?
Hockey.
And most importantly, how do you take your coffee?
If it's good stuff, I'll take it black! If not, I'll take with Bailey's!
Erich Rieppel Bio
Erich Rieppel was appointed principal timpani of the Minnesota Orchestra in the Fall of 2018. Prior to that, he held the same title at New World Symphony under Michael Tilson Thomas in Miami Beach, Florida. Rieppel has performed as principal timpani with the Seattle Symphony, Detroit Symphony and New Jersey Symphony, among others. He has held the posts of associate timpani of the Chicago Civic Orchestra, substitute timpani with the Louisville Orchestra and Charleston Symphony, and principal timpani of the Terre Haute Symphony and the Columbus Indiana Philharmonic.
Rieppel has experience in arts administration, college teaching, music librarianship and conducting. He attended Indiana University for his bachelor's and master's degrees where he studied a variety of percussion with John Tafoya, Kevin Bobo, Steve Houghton and Michael Spiro. He has also studied with Josef Gumpinger, David Herbert, Ed Stephan, Shannon Wood, Tom Freer and many others. A native of Minneapolis, Rieppel grew up near Marshall, Minnesota. In his free time, he plays hockey.