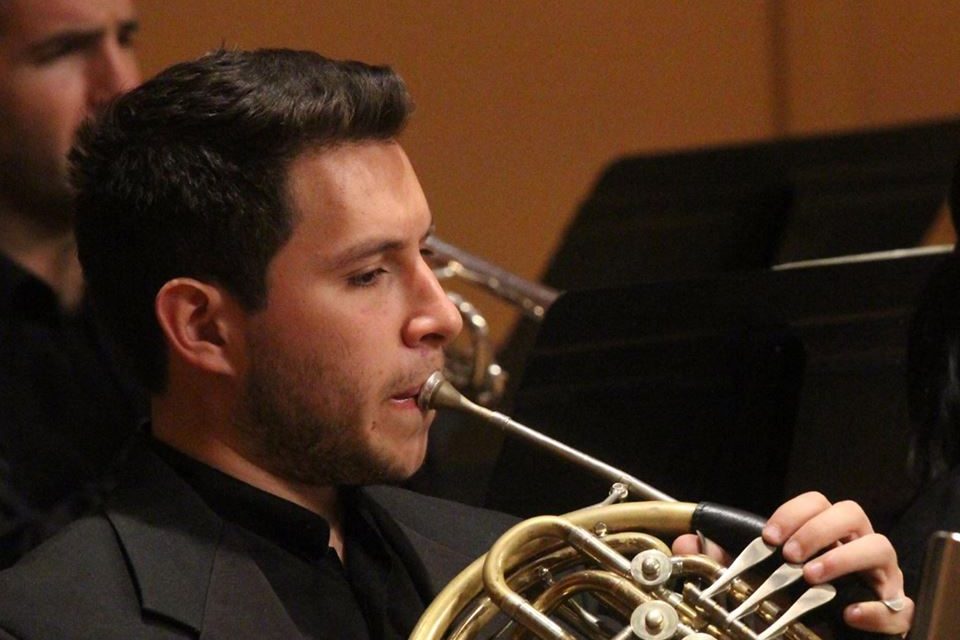 Meet the 22 year-old who just won a MET Orchestra horn position
Interview with Hugo A. Valverde
Meet Hugo A. Valverde, the 22 year-old Costa Rican horn player who just won a second horn position with the Metropolitan Opera, one of the most highly regarded orchestra's in the world.  We talk to Hugo about his audition day, preparation methods and more!
How many auditions had you taken before the MET?
I took 3 auditions before this one. I auditioned for The Florida Orchestra, The Phoenix Symphony and The Sarasota Orchestra.
How did you prepare for the audition?  Did you follow any kind of regimen?
I was very fortunate while I was preparing for this because I had amazing and incredibly supportive colleagues at Rice who were always there, sharing their points of view regarding to excerpts, style, phrasing and musicality. My teacher, William VerMeulen, was a huge help along this long preparation process. His advice and motivational lessons made me discover things about my playing which helped me to have a better and more convincing offer to the audition committee. I did a lot of mock auditions while I was at school, between orchestra and chamber music rehearsals, before and after my lessons, etc. I always tried to take advantage of every single time gap I had in order to play through at least three excerpts. Doing mock auditions is very different to sitting down and working on specific things from the excerpts, and this is why you should try to keep going and never stop to fix anything while doing a mock, because that's how you may feel the day of your audition. I recorded myself a lot while playing through mocks, but I wouldn't listen to them right after, I would take a short break in order to reset my mind and get ready for the critics and comments. If I invited some friends to the mock, then I would ask them for a list of excerpts, not based on calling one excerpt, giving some comments and then calling the next one. I always tried to make the preparation process as close to an actual audition, and that's why all the previous auditions I took helped a lot.
How were you feeling the morning of the audition?
I was feeling great! The morning of the preliminary round was a little rainy, but that didn't affect my mood. I had a delicious Costa Rican breakfast with my friend, warmed up and then I headed over to the MET Opera House.
The morning of the semis and finals was beautiful and then the weather remained like that for the rest of the day; that must have helped to enhance my good mood!
What did you do in terms of warm-up/practice the day of the audition?
I just simply treated those days as part of my usual audition routine that I developed over my time at Rice. I didn't do anything different, I didn't change anything at the last minute, and I just tried to be there at every moment of the process with mind and spirit. I always thought about the most beautiful sound possible before playing a note and I just simply tried to convey that with my horn. If you have the sound in your mind before you play, then you just have to do that! As simple as it sounds! My teacher always told me to be aware of two things: sound and music!
How many horn players were at the audition?  Did you know many of them?
I heard that there were 55 horn players, including myself. The first half played on May 22nd and the second half on the 23rd. I was the number 55! I thought it was very funny! I knew some of them but not a lot.
How did you feel after your first round?  Did you expect to advance?
I tried to do my best in every round and keeping in mind the criteria of playing with a beautiful sound all the time. I felt great after my first round, but I was kind of anxious to hear the results because I wasn't sure if I had passed or not. It's that moment where you think "well, that was pretty good to me, but hopefully the committee thinks the same!"
What was asked of you in the final round?  How were you feeling at this point? 
I was in shock when I heard I made it to the finals, but I didn't let my mind affect the way I was feeling at that moment. I said "ok man, you are prepared, you have out a lot of effort in this audition so, now you just have to go a focus on the music, sound, clarity, intonation, etc; I didn't even run the entire excerpts before my final (prelims and semis as well) round, I just played the very first note and that was it. I knew that if I played whatever excerpt before the audition, it might have been a reason for me to get distracted or freaked out because it didn't go the way I wanted, maybe. I saved the energy for the moment and just enjoyed it. I felt very confident and basically just went for it.
Was there anything that threw you off?
Nothing that I remember. I kept my concentration all the way to the end, because it is a "fine antidote for the anxiety" (quote from Mr. VerMeulen)
What are some musical factors that you believe help set musicians apart at an audition?
I personally don't like the whole audition process, to be honest, but if I have to say and mention some factors which set musicians apart those would be: sound, right style, clarity of articulation in both registers, evenness of tone, solidity, musicianship reflected on your playing, intonation, knowing your role in the excerpt and being very aware of how your musical message should be. My teacher and colleagues discussed all of these factors every time we did mocks, during lessons, etc.
Have your mentors shared any audition advice that you have found helpful?
The most helpful advice I learned and also applied from my teachers was "it doesn't matter if you missed a note while playing the excerpt, but always keep your sound, your rhythm, your clarity, and your intonation because if you let that mistake affect you, you might lose your concentration, leading to an annoying and devastating "thank you!" from someone in the committee".
Do you believe people should take auditions just "for the experience" or always with the mindset that they could win?
Never for the experience and always with the mindset that they could win. If you are student who has no money, you shouldn't take an audition just for the experience, because it takes a lot of effort and of course, money. Always look for advice and orientation before sending your resume and deposit.
What advice can you offer to those on the audition circuit?
As I previously mentioned, I don't like auditions but I have developed a way to get better at it with my teacher and colleagues at Rice. My advice would be to always believe in yourself and to respect, serve and admire the music we are so privileged to play. You should always have fun while practicing and it shouldn't affect the way you behave around your friends. Being on the audition circuit nowadays is tough, especially because of the high amount of great players out there; BUT, not a lot of great musicians, and that's where you want to be, always and every time you pick up your instrument and play. Listen to the greatest recordings that are available to us, ask for help and try to perform as much as you can and this means spontaneous chamber sessions, mock auditions for your friends, playing a tune you like or even going out there and performing in random places (with a permission, obviously).
If you were not a musician what other career would you have pursued?
I would have pursued a Biology major. I love everything related with nature, the fauna, etc. I am from a very rural area in Costa Rica located near the rain forest, and that's why I like it.
What do you like to do for fun?
I love mountain biking, and in fact, I was in mountain biking team for 4 years back in Costa Rica. We traveled the entire country doing competitions and getting to know one of the most beautiful places on Earth. I got to a point where I had to stop because I wouldn't practice at all sometimes.
How do you like your coffee?
Plain black coffee with no cream and no sugar. Again, I am from Costa Rica and we are lucky to have one of the world's best coffee brewed there, in that tiny country. Y'all should try it if you haven't!
Last played song on your iPhone/iPod etc..?
"Abril (April)", by a Costa Rican group called "Malpais". I love that group, even though they don't perform that often anymore.
BIO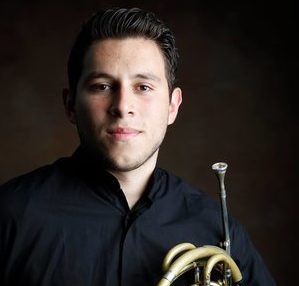 Hugo A. Valverde is a Costa Rican-born horn player. He started his musical journey when he was seven years old at the local school of music in his hometown, Barva de Heredia. A year later, after a long day of musical instrument trials, he decided to learn how to play the French horn. His first teacher was Daniel Leon, from 2003 until 208. In 2008 he joined the National Music Institute and went on to study with the Principal Horn of the Costa Rican National Symphony Orchestra, Luis Murillo. While Mr. Valverde was there, he played with many ensembles that helped him to develop a more intimate love for the music and most importantly, the art form.
He had the opportunity to perform with the Costa Rican National Symphony Orchestra as both assistant and second horn positions, which helped him to gain more experience in the orchestral world. In 2012, he auditioned for the Lynn University Conservatory of Music located in Boca Raton Florida, where he was accepted to begin his bachelor degree and musical studies with his teacher and mentor, Gregory E. Miller. It was a wonderful time for Mr. Valverde because he gained much more experience on how to improve both as a music and university student. He successfully graduated in May 2016. While he was finishing his undergrad, he went to audition in order to gain entrance to the Master of Music program at the Shepherd School of Music at Rice University, located in Houston, TX. He was accepted, and his time at Rice became a crucial point on his career because there were wonderful colleagues who always supported each other to become better musicians who are ready to be part of the professional music business nowadays. Mr. Valverde had the opportunity to study with the internationally acclaimed horn teacher and pedagogue, William VerMeulen. Mr. VerMeulen is known for being a very demanding teacher and also for leading The Rice Horn Crew, considered one of the best horn studios in the United States, having students who have won more than 300 professional orchestral jobs around the country.
Mr. Valverde is a mountain biking aficionado, a beach lover and enjoys having good coffee with family and friends.