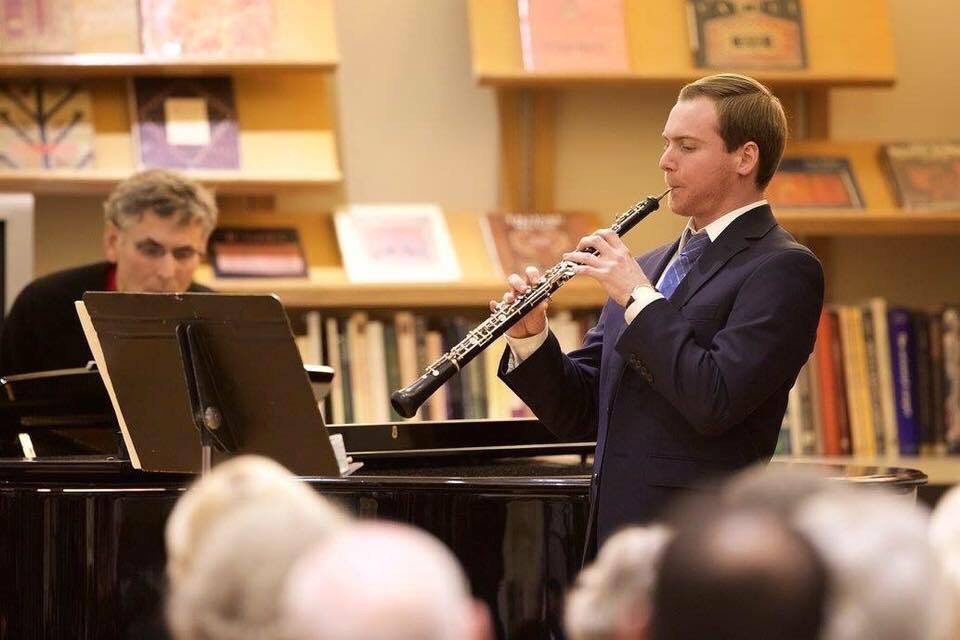 Winning Principal Oboe of Detroit Symphony at age 21
Alex Kinmonth is currently principal oboe of the Detroit Symphony Orchestra, a position he won several years ago at just age 21 while still studying at Juilliard.  In this exclusive interview we ask Alex about his preparation methods, about the audition day, his experience on the job and also hear advice he has to offer to those on the audition circuit.  Enjoy!
How many auditions had you taken before the Detroit Audition?  What were your feelings on applying to such a big job at such a young age?
The Detroit audition was my 7th audition. I had started taking auditions about a year before and took almost every oboe audition that was held in that year, so I didn't give much thought to my age. A lot of my friends from school and festivals were taking the same auditions, and oboe auditions are rare compared to some other instruments, so by the time I started auditioning I felt like I couldn't afford to miss any, even if the chances of someone my age winning are low.
How did you prepare for the audition?  Did you follow any kind of regimen?
I don't have a strict regimen but I would always start preparing at least a month before the audition. Depending on the excerpt list I might start preparing even 2 months before. By the time I took the Detroit audition I had already been practicing most of the excerpts for years. With 7 auditions within a year I was almost constantly preparing for auditions, so a lot of my preparation for this audition was mental. I would listen to many different recordings of each piece to understand the style, the architecture of the whole work and where the excerpt fit in, and see what tempos were standard. I would also record myself fairly often and play mock auditions for whoever would listen, especially people that didn't play oboe.
How many oboe players were at the audition?  Did you know many of them?
I think there were a little over 100 people at the audition. I did know a couple, mostly oboists around my age who I knew from school or summer festivals.
How did you feel after your first round?  Did you expect to advance?
I remember feeling pretty good after the preliminary round, though it's probably the most stressful round in many ways because it's impossible to know what the committee wants to hear, and they're mostly just looking for reasons to cut you. I would try to not really expect anything after the prelim rounds and just try to be optimistic.
What was asked of you in the final round and was the screen down?  How were you feeling at this point?  Was there anything that threw you off?
I played 2 final rounds, the first was a normal round and then they asked me and another candidate to play again in a superfinal round. Both rounds had the screen still up, and in both rounds I was asked to make slight changes to certain excerpts to show how I responded and how flexible I was. I felt ok after my final round but was definitely worried that I had too many little mistakes, so I was a little surprised to be asked to play again. It gave me some extra motivation going into superfinals knowing that even with some mistakes they must have liked something about my playing enough to hear more.
How has your experience playing with the orchestra been so far?  Have there been any unexpected challenges on the job?
It's been an amazing experience so far, the wind section was very easy to fit into and the orchestra is extremely supportive and kind so I felt at home right away. The most challenging part was probably just getting used to the schedule in terms of preparation. Having a steady supply of good reeds and learning a symphony or more a week is a work load I hadn't really experienced in school. I also had to change my setup a bit to fit into the sound of the orchestra and be able to project in our hall, which came with its own set of physical challenges.
Now that you yourself have been part of the hiring process for the new second oboe in the Detroit Symphony, what are some musical factors that you believe help set musicians apart at an audition?
One of the biggest things that stuck out to me after being a part of a few audition committees is how common specific mistakes or tendencies are for certain instruments and certain excerpts. Especially in the preliminary rounds, hearing someone play well what many others before them played less convincingly definitely stands out. I wish I could have sat in on a professional audition before I even started auditioning because it becomes very clear what is important to overcome on the instrument and what is important to demonstrate with each excerpt. In later rounds it becomes much more subjective, and it's interesting hearing colleagues on the committee express their musical values and opinions. Sometimes there are very different ideas of how something should be played. In a way it's unfortunate that the least creative playing often does well in auditions simply because it avoids offending most of the committee, but I think the people who end up winning auditions are players who can present their ideas so convincingly that even when committee members have a different idea, they can still understand and empathize with the candidate's thinking and appreciate the creativity.
Have your mentors shared any audition advice that you have found helpful?
All my teachers and mentors helped me a lot with my audition preparation, even if I wasn't specifically preparing for an audition with them. My teacher in undergrad, Nathan Hughes, has always been interested in the audition process and gave me a lot of specific strategies for auditions, like analyzing the list for each round and finding extreme characters you can demonstrate, and trying to understand what the committee is looking for in different rounds. In general though I believe that excerpts are chosen to demonstrate certain skills and musical awareness, so just having musical experience will eventually build a lot of those details into one's playing.
Do you believe people should take auditions just "for the experience" or always with the mindset that they could win?
I don't think that anyone should take an audition without the mindset that they could win. In a way that seems like planning for failure, and when one decides that they aren't actually going to compete, I imagine it's nearly impossible to be motivated. At the same time it's obviously reasonable not to expect to win every audition, the odds are stacked against everyone, but I think one needs to believe they could win even if the chances are slim. Audition experience is a bonus and it will help with future auditions, but it's not the main goal.
What advice can you offer to those on the audition circuit?
The best advice I can give is to just keep taking auditions and trying to learn as much as possible from each one. Ask for notes from the audition, look at who is doing well at auditions and brainstorm what is working for them, play mock auditions for a wide range of musicians, record yourself and study other peoples' recordings, try to listen to an audition somehow, every bit of potential information helps!
When not practicing and playing concerts what do you like doing for fun?
I'm a huge soccer fan so I try to play when I can, and I love mountain biking and trying new sports. I also play poker and enjoy just hanging out with friends with some good beer or whiskey
How do you take your coffee?
I've been trying to get good at pour-overs, and I usually add a little cream and sugar but I will drink it black occasionally. You cant go wrong with a good cappuccino either.
BIO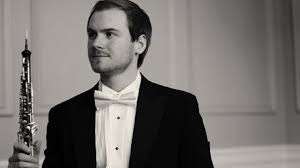 Alex Kinmonth has recently been appointed Principal Oboe of the Detroit Symphony Orchestra by Leonard Slatkin. He can be heard on the DSO's most recent "Live from Orchestra Hall" recordings of the Brahms Symphonies and Tchaikovsky's Symphonies 1, 2, 4, and 6.  He earned his Bachelor's degree from The Juilliard School, where he studie
d with Nathan Hughes of the Metropolitan Opera and graduated with the Peter Mennin Prize for Outstanding Achievement and Leadership in Music.  Quickly becoming involved in Detroit's classical music scene, Alex has enjoyed performing with the Chamber Soloist of Detroit and the Detroit Chamber Winds and Strings, leading orchestral sectionals for local orchestras such as the DSO's Civic Youth Ensembles and the Detroit Medical Orchestra, and holding masterclasses for several schools in the Detroit area.
Mr. Kinmonth has substituted in the Metropolitan Opera on both oboe and English horn and in the Charleston (SC) Symphony Orchestra.  During recent summers, Alex has participated in the Mainly Mozart Festival in San Diego, CA and the Sun Valley Summer Symphony in Idaho. In previous summers he has attended the Tanglewood Music Festival, Music Academy of the West, the Round Top Institute, and the Aspen Festival, where he received a fellowship in 2014. He also participated in the prestigious New York String Orchestra Seminar at Carnegie Hall in 2013.  Alex is a winner of the Professional Musicians Club of Boston's award for "Outstanding Achievement."   During his time in New York, Alex performed operas, orchestral works, and new music with the Juilliard Orchestra and New Juilliard Ensemble, working with noted conductors such as James Levine, Kurt Masur, and Jaap Van Zweden.
Alex grew up in a musical household in Carlisle, MA, choosing to play violin at age 5 and oboe at age 9.  From a young age, he has pursued orchestral, solo, and chamber music interests, playing with the Boston Youth Symphony, the New York Youth Symphony, and winning awards from the Massachusetts Instrumental and Choral Conductors Association, Philharmonic Society of Arlington, and Concord (MA) Orchestra.  His former teachers include John Ferrillo and Laura Ahlbeck.  Although music is the main focus of Alex's life, he also enjoys a balance of athletic, social, and academic interests.  He participated in the 2010 National Junior Olympics for fencing, and enjoys soccer and downhill mountain biking.  He is also the winner of a National Gold Key Award in the Scholastic Art and Writing Awards' Short Story category.