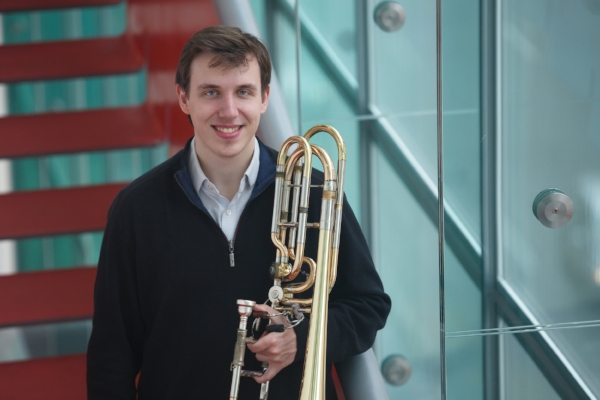 Interview with Bass Trombonist of the Finnish Radio Symphony
Matthew Winter is currently solo bass trombonist with the Finnish Radio Symphony. A position he won while an undergraduate student at the Juilliard School.  We talk to Matthew about his experience playing with the orchestra, the differences between auditions in the United States and Europe, his audition preparation process and also ask for general audition advice.
How long have you been playing with the Finnish Radio Symphony? Is the experience what you expected?
I started playing in the Finnish radio orchestra in the 2015/2016 season on a one year contract (via tape audition) after my mentor and former teacher at Juilliard Denson Paul Pollard decided to leave his position with the FRSO and return to the Metropolitan Opera Orchestra. I won the full time position at the end of the season in May.
I have to say I had not heard many recordings of the orchestra prior to moving to Helsinki. But I was really impressed with the quality of musicianship and how welcoming everyone was.
What have been some of the highlights playing with the orchestra?
There are many benefits to playing in the FRSO. One is that we tour a lot. In fact during my first season we did a tour of Japan as well as one in Austria. The Austrian tour was especially fun for me because I had always wanted to visit and it was my first time there. The program included Shostakovich's fifth symphony, Adams Short Ride in a fast machine, as well John Adams Violin Concerto Sheherazade.2 with the great violinist Leila Josefowicz.
The other thing about the FRSO is that we record multiple cds every year. My very first rehearsals with the orchestra were for an upcoming cd of compositions by Erkki Melartin and Magnus Lindberg.  Magnus Lindberg was present for the recording which was very exciting. Its always a treat to play music for the composer. The camaraderie in our Low brass section as well as the rest of the orchestra was especially great when we were recording.
How many auditions had you taken before the Finnish Radio Symphony?
Finland was my 9th audition.
How was your audition day? How did it compare to other auditions you have taken?
The audition was two days. The first day we played a preliminary round and the second day we had a semi final, final and super final round. All prelims and semi final rounds were behind a screen, which is fairly similar to my experience with other auditions. However, the first round consisted of a solo work, Norman Bolter's Sagittarius 2, and then excerpts which is different than many auditions I have taken where you play excerpts first and solos in the later rounds.
The convenient thing about those two days was that they were extremely well organized by the orchestra management. Everyone had their own rooms to warm up in and things went almost exactly according to schedule which doesn't happen at most auditions from my personal experience.
Was your experience taking an audition outside the United States what you expected?  Were there differences compared to auditions based in the United States?
This audition was actually my third European audition so I had a vague idea of some of the logistical differences between auditions in Europe vs. the U.S. As I said earlier the European auditions often start with a solo which in the U.S. is not typically the case. They also do not auto advance candidates like in the U.S. Everyone has to play a preliminary round regardless of their qualifications.  Another interesting thing about many auditions in Europe including Finland is that the committees listening are much larger. In the Final round for the FRSO the screen came down and there were over twenty people including the conductor sitting in front of me, which was a bit surprising and uncomfortable at first. I remember finishing my Final round and the whole committee applauding (which they do for all finalists) and not being quite sure whether to bow or to just give a quick nod and leave the room.
How did you feel after your first round?  Did you expect to advance?
My first round felt very secure. But I recall being very nervous before hand and knowing that a job that I really wanted was on the line. However I committed to going for it and I felt confident afterwards that I would advance.
What are some musical factors that you believe help set musicians apart at an audition?
One of my colleagues in the FRSO Darren Acosta had a very good answer to this question. He said there are three different levels of playing in an audition. No. 1 is having the basic fundamentals such as sound, pitch, rhythm etc. No. 2 is the basic sense of style for each excerpt. In other words playing with appropriate dynamics, and articulations. No. 3 is being able to communicate emotionally with your listener, which is very rare to hear in an audition. But if you can achieve that you can really set yourself apart from everyone else. I think the candidate who can let go of the technique to a degree and really take a risk musically is at an advantage.
How did you prepare for the audition?  Did you follow any kind of regimen? 
My preparation for this audition was very intense. Prior to the audition I decided to send an email to Mark Inouye (principal trumpet of san francisco symphony)  and ask him how he prepared for auditions. He said he would play through 6-7 excerpts, record them, listen back at half speed and take very specific notes on each excerpt. Then practice those things he had written in his notes and once he was finished, he would repeat the same process with 6-7 other excerpts. I really can't thank Mark Inouye enough for his advice. So I did this regime 6 days a week for 4 weeks. When you pratice this much its good to take a day off from audition repertoire. In addition, I compiled a playlist on spotify of all the orchestral works and solos on the Audition list. Then I would do a mock audition nearly everyday. I would either do this for my tape recorder, one of my low brass colleagues or other members of the orchestra. This was very helpful. The more different instrumentalists you can play for the more you learn about your strengths and weaknesses as a performer. It also gives you great insight as to what audition committees want to hear.
What advice can you offer to those on the audition circuit?
I would say that the biggest assets we have as musicians are work ethic, diligence and personality. If you are willing to put in the time, never quit and allow yourself to be who you are, I believe you will succeed eventually. There's a Babe Ruth quote aboutdiligence I find very motivating. "You just can't beat the person who never gives up."  We have to understand that its important to be content with our playing and musicianship regardless of whether we win an audition or not. We need to keep reminding ourselves why we chose to perform in the first place, that way we can persevere through difficult times when we don't get the results we are hoping for.
BIO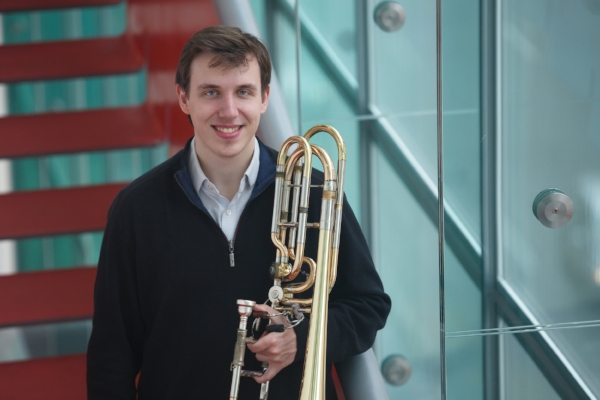 Matthew Winter is currently the solo bass trombonist of the Finnish radio Symphony Orchestra. A position he won while pursuing his bachelors degree at the Juilliard School.  Previously Mr. Winter was also a member of the Verbier Festival Orchestra for two summers.
In addition to this he has performed with distinguished ensembles such as the Metropolitan Opera Orchestra, and the New York City Ballet Orchestra. He has worked with great conductors such as Valery Gergiev, Paavo Jarvi, David Zinman, Manfred Honeck, Alan Gilbert, Michael Thilson Thomas, Ivan Fischer, and Gianandrea Noseda.
When Mr. Winter is not playing trombone he enjoys composing and playing the piano. His trombone quartet "ildiko" was premiered at the Juilliard School in 2014 for the non-major composition competition and was selected to be performed in Alice Tully Hall. This work was also premiered in Spain in the summer of 2015 and recently in Finland and Estonia.