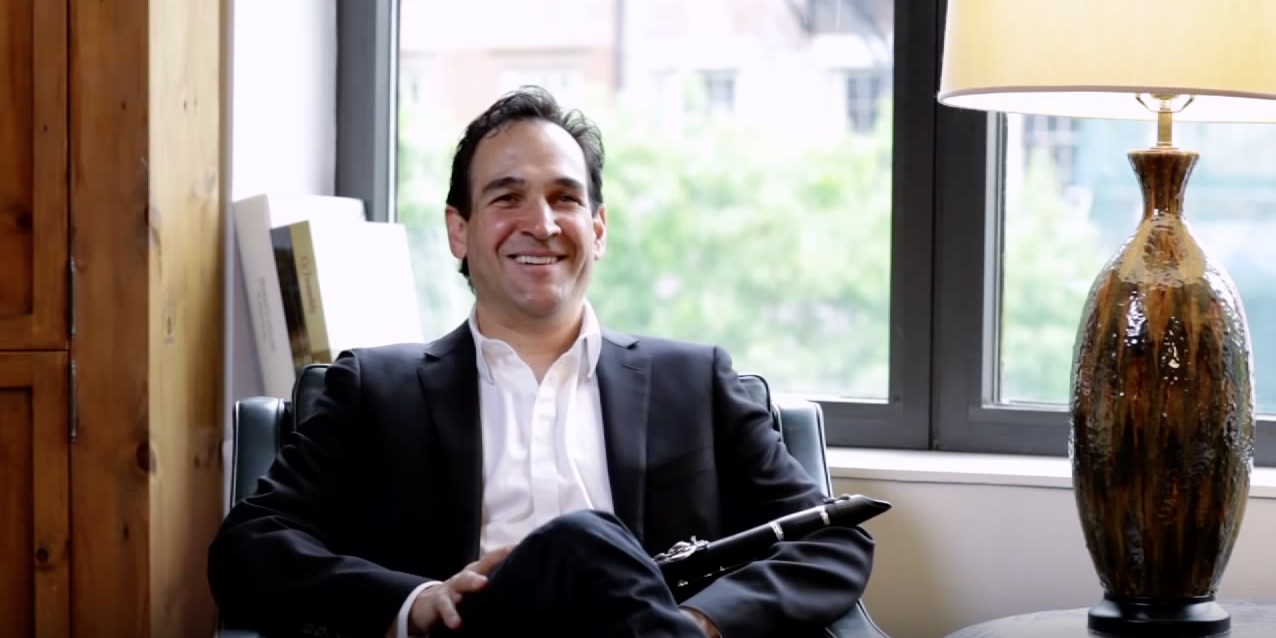 Orchestral Preparation in 10 Steps
Written by Mark Nuccio, Principal Clarinetist of the Houston Philharmonic
Everybody has a different approach to audition preparation but this is what has worked for me.  I have probably taken about 20 auditions.  I have won six auditions and beyond that, have been in the finals and not won the job in eight, all with this basic process. Through the years, I have slightly modified it to adjust to the changing system.  Below we will jump right in:
Step 1
Realize that all contact with the orchestra is a part of the audition. The process begins with the orchestra announcing a vacancy.  These days, the official notification comes both in the musician's union paper as well as on the given orchestra's website.  Typically what is requested is a one-page resumé.  When preparing this resumé, make sure to consult with your teacher or another performing musician to check it for quality and content.  This resumé should include your instrument name at the top (CLARINET) directly below your name and address.  If the orchestra is having multiple auditions, you don't want your resumé to end up in the cello vacancy pile!  Following your Name, contact info and instrument name, you should begin by showing your accomplishments.  Because it is a performance audition, you should start with performance information, not teaching or education.  Your information should be listed most recent to older experiences.  You also need a cover letter to introduce the resumé.  This should be brief, respectful and to the point specifying what you are seeking (i.e. "I am interested in your Principal Clarinet vacancy.  Please find my resumé attached.  I look forward to hearing from you at your earliest convenience.").  Remember that this information is often photocopied and stapled to all the other information and given to each of the committee members.  They will now begin to judge you based upon experience, intellect (the way something is written or how it is presented) and you will begin to set your first impression.
Step 2
Get list and begin to assimilate the parts. Often times, the list is also on the orchestra's website or on Facebook.  Once you have the list, get the parts from your library, IMSLP, friends, etc…I make a spiral notebook of parts that include the requested passages or main/obvious solo sections with tabs on each of them so that I am able to quickly move between the excerpts as the audition committee makes their requests.  At this time, I also make three additional copies for future mock auditions.  Along with the preparation of the music and assimilation of the book, you should design a graph that represents all the repertoire down the left side and the days/dates prior to the audition to the right along the top.  This should always be kept with the audition book to keep track of what you have practiced each day.
Step 3
Make a playlist on your computer/iPad/phone with all the pieces that are on the list. This way you can begin to study the music during any downtime.  If you have never played any of the pieces, it is a good idea to have gone through several recordings so that you have an idea standard tempi as well as for the best recording available.
Step 4
Make sure that your instrument is in the very best working condition. Actually you should make sure you have a good instrument first.  It is not likely you will win an audition with a subpar instrument.  In reality, why practice 6-8 hours per day for 10 weeks when you really have no chance because you have equipment that wouldn't allow you to win an audition?
Step 5
The Performance preparation should take approximately 8-10 weeks.  The graph, spoken about in Step 2, should be used daily during your practice so that you can begin to see where the focus of your work has been.  Remember that as frightening as some of the more difficult repertoire may be, assuming this is not the standard rep, that you won't get to perform that anyway unless you play the standard first-round repertoire with artistry and accuracy.
That now gets to the four things that are a must in every audition.  Those things are:
         a. Rhythm
         b. Intonation
         c. Articulation
         d. Sound
You notice I didn't say perfection?  Perfect performances are rarely memorable because when you take risks, imperfections happen occasionally but also special and different things happen too!  If you aren't practicing taking risks, it is much harder in your performance to take these risks.  Practice with musical intent, the goal first to make music and then do it as accurately as possible.  This is not to say mistakes are okay.  Just take risks while playing as near perfection as possible.  One also needs to understand that a committee often times is comprised of a variety of players who don't play your instrument.  This is not the case as much with strings, but quite often is with Winds/Brass.  So what is noticed when it isn't your instrument?  5a, 5b, 5c and 5d.  In your detailed preparation over the course of 8-10 weeks, and when listening back to your recorded practice sessions, make sure you are playing with solid rhythm and accurate intonation, clean articulation and doing all of that WHILE playing with a beautiful sound…or at least with the sound you have chosen for that particular excerpt.  Think about it, these are all things to which we can all identify and probably bare themselves within the first 24 measures of the concerto, performed first in most auditions.  I usually know if I want to hear this person anymore in that short amount of time.  I hear more because the great players, of which there will be only a few, will have the basics covered and now will have to distinguish themselves with their musicality and knowledge of the styles of music.  If you aren't getting out of the first rounds consistently, it is most likely one or all of points 5a, 5b, 5c or 5b.
Step 6
During 10 weeks of audition preparation, you will have busy days, days with lots of playing where you might not be able to practice as much.  8 or 9 weeks out, you can get your reeds ordered or blanks for oboe/bassoon reeds made, strings ordered, extra drum heads and sticks ordered,etc…  As you get closer to the audition and these things are accomplished, you should be listening as much as possible when you aren't practicing.  Record your practice and be a very critical listener…to your own playing, almost as if it was someone else playing.  Practice the excerpt and when you are ready, record it and listen back immediately with intent to make it better, making sure all the basics are present along with great musicianship.  If any of 5a-d are not accomplished, practice it more and then repeat this exercise until you are satisfied.  I would say that the saying "Rome was not built in a day" is true here.  You should not expect to reach perfection in week one of the preparation and probably not until about two weeks out from the audition.  Therefore just make it better and identify what you must work on to improve it tomorrow, knowing that you have 10 weeks to do so.
Step 7
Earlier I mentioned that you should make 2-3 extra audition packets.  That is for the purpose of setting up mock auditions about 2 weeks out from the audition.  Your choice of "jurors" for your mock audition should be musicians that you respect.  They don't all need to play YOUR instrument.  Give them their packets and encourage them to make their comments right in the "audition book" so they don't miss anything.  You should also record this so that YOU can assess if you agree.  You can now listen to your mock audition and compare with the mock audition comments.  This now has put you in the position of "auditioning" before actually going to the audition.  If you have done this process two or three times prior to the audition, there will be less chance of getting nervous since you have already done it so many times.  There are many people that can get a particular passage right on the 10th try but playing live concerts 3-5 nights per week, we must make it accurate and musical on the first try.  Therefore we all have to learn how to concentrate and achieve this for the audition and all future auditions as well as future performances.
As you get closer to the audition (one week out), you should be trying to run the audition list while recording it and not stopping.  Choose a different order each time.  If you'd like, you can go back after and listen to each excerpt and assess what needs to be practiced again.  But one has to learn to push through the inevitable mistake and put it behind him without making 10 more mistakes because he was thinking of the earlier wrong note …or whatever the problem.  I have played perfect auditions and not gotten out of the first round and I have won auditions where I made mistakes.  Practice "making music", not perfection.  If you are in fact, making music, you will probably be playing more accurately anyway.
Step 8
Arriving at Audition
Hotel Choice:  Don't stay the night before an audition with a friend.  You are about to go to a job interview where you need to be the very best YOU can be.  You have prepared for many weeks, many hours a day and need to have space to focus on proper sleep and preparation.  For that reason, I rarely chose the cheapest hotel.  That will be the one with every candidate playing the excerpts faster, better, louder and/or softer than you.  I like quiet space and a few more dollars makes some difference.
Getting in the Hall:  You should also try to get in the concert hall where you will be auditioning.  Maybe the night before your audition, the orchestra is performing?  Why not go to the concert?  Might it be nice to know where you will likely be sitting for the audition, what the dynamic range of the orchestra is, how the players around where you'd like to be sitting play?  There is so much to learn.  If there is any chance to play on stage yourself, do it.  This is rare that you can do this but if you know someone in the orchestra and you can get in, by all means, do it.
Clothing – Back to "First Impressions":  You now have practiced for 10 weeks, you have your playing in the best shape you have ever been in and are ready.  Make sure you wear clothing you would wear to a job interview and that "when" you win the audition later in the day, you will be proud to meet the music director and your future colleagues.  If this is a drastic change from your normal day to day clothing choices, it might be smart to practice in the audition clothes a few times before the audition day.  Remember "first impressions" are important!
Warm-up Room, the Day of:  Bring healthy food and a bottle of water thatwill help you sustain the typical two-hour delay in their audition process.  You must feed the brain to keep it sharp.  I also bring other things to do …magazines, books, etc., and headphones so that you can drown out all the [instrument] playing.  I refer to this wonderful playing as a product of the "door factor".  We all sound better through the door.  You don't need to hear the others playing the excerpts and you certainly should NOT be rethinking your musical decisions in the excerpts that you have practiced for 10 weeks.  Those decisions were well thought out and are going to win you the audition if you execute them as planned.
Step 9
Not Offered the Position: This is always tough but realize that it really does no good to complain about the process should you fall short.  The decision has been made and it didn't go your way.  What if the winner doesn't take the audition and you were bashing the process, will you be invited back to audition the next time?  Doubtful!  It is an imperfect process and it is almost unheard of that anyone wins every audition they take.  Move on!
Step 10
Offered the Position:  Fantastic. This is the end of a very long process and you are not equipped to negotiate a contract.  If you are presented with the scenario, respectfully tell them that you would prefer to work on the contract "tomorrow".  Then make sure you take the time to find out your peers overscale, both within and outside of your orchestra.

Mr. Nuccio officially began his position as Principal Clarinet with the Houston Symphony Orchestra in the 2016-17 season after seventeen years with the New York Philharmonic. He also serves as clarinet faculty at the University of Houston's Moore School of Music. Mr. Nuccio joined the New York Philharmonic in 1999 as Associate Principal and E-flat Clarinetist and during the time served as Acting Principal Clarinet for four years from 2009-13. Prior to his service with the Philharmonic, he has held positions with orchestras in Pittsburgh, Denver, Savannah, and Florida working with distinguished conductors such as Lorin Maazel, Kurt Masur, Mariss Jansons, Riccardo Muti, Zubin Mehta, Erich Leinsdorf, Bernard Haitink, Claudio Abbado, Riccardo Chailly, Andre Previn, Christoph von Dohnanyi, and Gustavo Dudamel. Additionally, Mr. Nuccio has toured extensively with the New York Philharmonic and the Pittsburgh Symphony Orchestra in numerous countries, recorded with both orchestras, and performed regularly with the Philharmonic on the award-winning series, Live from Lincoln Center, broadcast on PBS. Recent highlights include the Philharmonic's historic and newsworthy visits to North Korea and Vietnam.
Nuccio is an active solo and chamber musician and has been featured with various orchestras in the United States and made multiple appearances as a featured performer at the International Clarinet Association conventions. He made his subscription solo debut with the New York Philharmonic on Feb. 10, 2010 and returned to perform the Copland Concerto with the NY Philharmonic under the baton of Alan Gilbert on May 31 and June 1 of 2013. Other highlights include a New York recital debut at Carnegie Hall in 2001 and his Japanese recital debut in 2002. He is an avid chamber musician and continues to regularly perform recitals in Asia and Europe as well as across the United States. In New York, he can often be heard at Merkin Concert Hall, 92nd Street Y, Carnegie Hall, and the Metropolitan Museum of Art. Mr. Nuccio also participates in the chamber music series at the Strings in the Mountain Music Festival in Steamboat Springs, Colorado and teaches at the Hidden Valley Music Festival in Carmel, CA.
As a studio musician, Mr. Nuccio is featured on numerous movie soundtracks, including Failure To Launch, The Last Holiday, The Rookie, The Score, Intolerable Cruelty, Alamo, Pooh's Heffalump, Hitch, The Manchurian Candidate, and various television commercials. Additionally he has performed on the Late Show with David Letterman and on the 2003 Grammy Awards. His own debut album featuring the clarinet quintets of Mozart and Brahms, Opening Night, was released in November 2006.
A Colorado native, Mr. Nuccio was recently awarded the "Distinguished Alumni Award" from his alma mater the University of Northern Colorado, a very selective honor bestowed on an elite group of 200 alumnus representing various fields throughout the long history of the university. He also holds a master's degree from Northwestern University where he studied with renowned pedagogue Robert Marcellus. Beyond his active performing schedule, Mr. Nuccio is a dedicated teacher committed to training the next generation of musicians and teaches master classes in the U.S. and abroad. Nuccio is a D'Addario Advising Artist & Clinician and a Performing Artist/Clinician for Buffet Music Group.