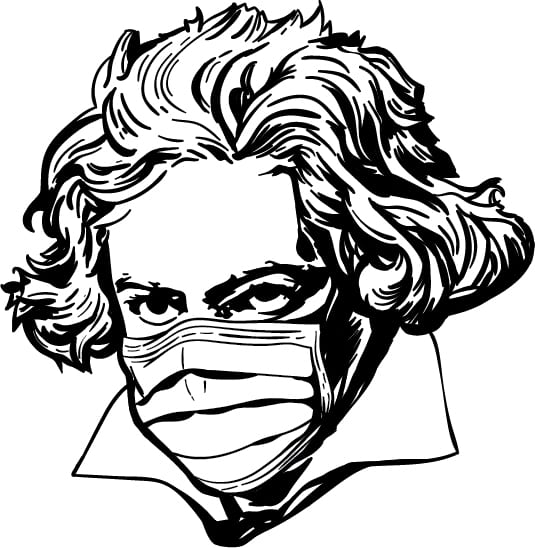 The Stay-Home Brew: Celebrating Women's Month
Four projects by female musicians that will motivate you
In this time where our lives as musicians have been turned upside down, we're starting a new series to share exciting things musicians are doing, ways to use our newly acquired free time, and stuff we just think is cool.
For our first post we're celebrating the end of Women's History Month by sharing a few things that women in the music world have been doing in the past month. There's something for everyone – performance, entrepreneurship, social action, and a t-shirt with Beethoven practicing safe-coronavirus protocol!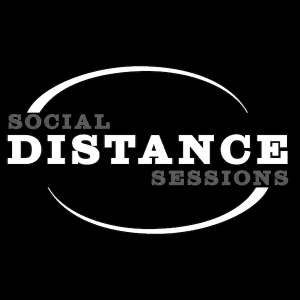 Flutist Zoe Sorrell started Social Distance Sessions, a virtual recital series dedicated to connecting classical musicians with audiences during the COVID-19 crisis. Zoe says "It is my hope to provide some relief and entertainment for communities that are now isolated from one another as well as to provide my fellow musicians with an opportunity to perform and to raise tip money for themselves and the causes they care about." So far, the line up features solo instrumentalists, electronic music makers, and small chamber ensembles and has included everyone from amateurs to symphony professionals.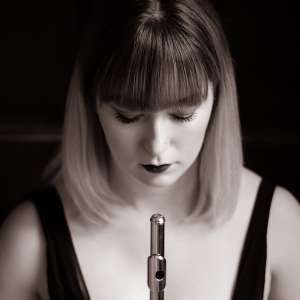 Click here to watch a virtual recital and contact Zoe through Facebook or at zoesorrellflutist@gmail.com if you want to perform in the series.
Zoe is currently a soloist, educator, chamber collaborator, and entrepreneur based in Pittsburgh, Pennsylvania. She is the founder and artistic director of contemporary music ensemble NAY 28, offers personal and group coaching on entrepreneurship and personal branding, and is the creator of the online course Idea Incubation for Classical Musicians. Learn more about Zoe and her other work at her website!
Bass trombonist Lisa Stoneham curated and performed a recital of solo and chamber works by living female composers. The performance also features video interviews with each composer interspersed between the pieces. Lisa shared, "Shattering the Brass Ceiling is a project that aims to uplift female voices in classical music. The higher I go in music, the fewer women I encounter, especially in brass playing and composition. The recital part of my project served as a platform to celebrate works by living female composers, as well as to start a conversation about what it is like to work in a male-dominated field…I believe that when we fully represent half the population on stage, we can only improve audience experience. Thank you to Audition Cafe for highlighting my recital during Women's History Month, and thank you to all the amazing women who inspire me year round!"
The next step of her project is to create a a consortium of organizations to commission a full orchestra work from a female composer for the 2022-2023 New World Symphony season.
Watch the full concert here on the New World Symphony's digital platform Musaic (you need to make an account, but it's free and only takes a minute).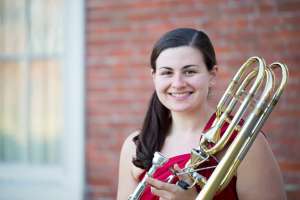 Hailing from Beverly, Massachusetts, Lisa Stoneham is a third-year Bass Trombone Fellow at the New World Symphony and has performed with the Cleveland Orchestra, the RTÉ National Symphony Orchestra and the Buffalo Philharmonic Orchestra. Ms. Stoneham received her Master's degree from Rice University, studying with Allen Barnhill and her Bachelor's degree from SUNY Fredonia, with Jeffrey Dee.
3. Get Inspired with Ask Marte: Free live online coaching for creatives/small businesses
Marte Siebenhar of Cultured Innovations wants to devote March and April to being of service during the pandemic, so she started Ask Marte, a series of 30-minute live streams every weekday (on top of the blogs and Instagram videos that she does regularly). "I felt called to create a specific new platform for discussion and coaching to help folks navigate uncertainty, share knowledge and connect…I've already spoken with lots of creative people and performers and welcome more to join. I talk a lot about how my classical [music] training helps me uniquely solve clients' problems and other business challenges, and I love creating tools anyone can use to step into a more confident, creative life."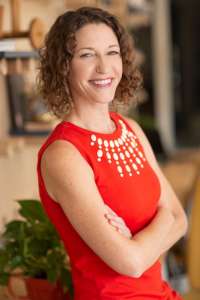 Join Marte's livestream sessions "Ask Marte" on Facebook, Instagram, or Zoom or you can watch them later on her YouTube Channel.
Marte is a a classically trained oboist, entrepreneur, author, and strategic planner. She invites you to check out her blog and to get in touch to set up a free 60-minute career consultation, or to send your questions, challenges, suggestions, and offers if you'd like to join "Ask Marte" as a featured guest!
Sisters Alexandria and Brittany had a t-shirt designed to raise money for the the MusiCares® COVID-19 Relief Fund. 100% of the proceeds from this campaign will be donated to help members of the music community who have lost income because of the Coronavirus pandemic. Brittany says, "This fundraiser was born from our desire to find a way to serve our music community beyond social distancing. We hope that this fundraiser will inspire people to donate!"
Click here to purchase a t-shirt and contribute to MusiCares! 
Special thanks go to designer Daniel Lemieux (a friend of Alexandria's from law school!)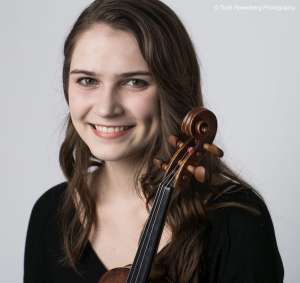 Violinist Alexandria Conrad graduated from DePaul University, was a member of the Civic Orchestra of Chicago, and is currently attending Boston University School of Law. Double Bassist Brittany Conrad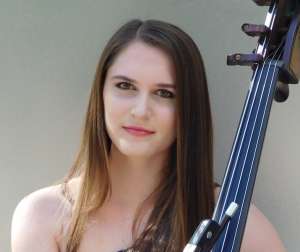 recently graduated from the Juilliard School and currently has a contract with the Atlanta Symphony Orchestra.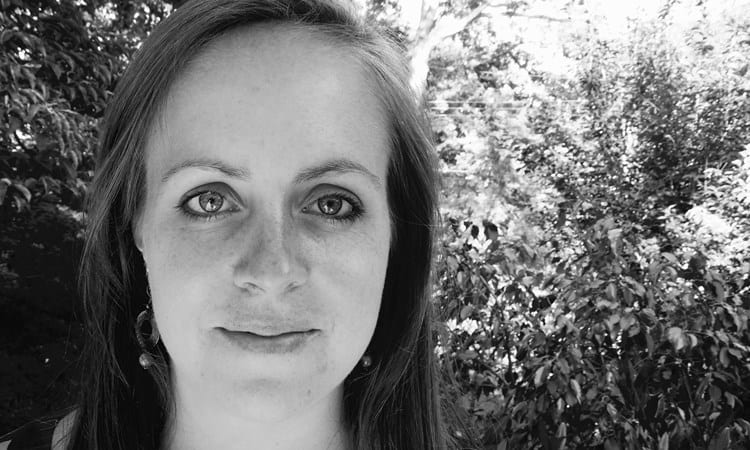 Double Bassist Andrea Beyer is an avid performer, teacher and advocate for using music as a tool for social growth. As an orchestral musician, Andrea has performed in concerts at Carnegie Hall and Lincoln Center, as well as national halls in Central and South America and Asia. A fellow at the New World Symphony from 2017-2020, she gained a passion for creative concert design when she conceived of and presented concerts geared towards new audiences, including "Face-off: Battle of the Instruments" and "Music from Beyond the Wall." 
Outside of the orchestral world, Andrea is a passionate teacher and is on the faculty of Bass Works, a summer double bass program in Baltimore, Maryland. She is also the Public Relations Director and a Workshop Coordinator for the MusAid Organization, which supports music programs in under-resourced countries with volunteer music teaching workshops. Andrea holds a Bachelors Degree from Oberlin Conservatory where she studied with Thomas Sperl and a Masters Degree from Yale University where she studied with Don Palma.
Currently based in Austin, Texas, you can connect with Andrea at andreabeyerbass.com or find her on Instagram @wandering_bassline.