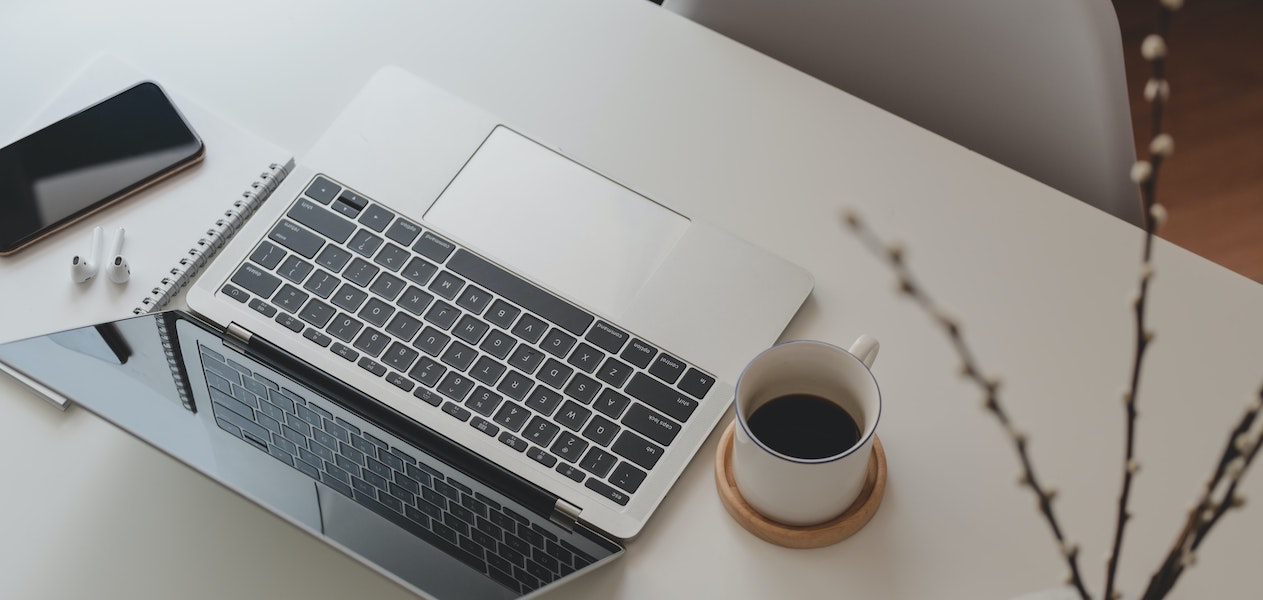 Tips for Distance Teaching - Part 1
Setting up for success and using technology with ease – several Teaching Artists share their experiences to help you make the most of virtual teaching
I want to start this post by making a shoutout to all of the teachers who are rising to the challenges brought on by COVID-19 and continuing to provide students with creative outlets and personal connections! Students need these now more than ever, and providing them at a distance requires a lot of creativity and flexibility.
With all of the challenges that come with virtual teaching, we can all use a little inspiration, so I am thrilled to share the insights of five experienced teaching artists (all of whom I know through the MusAid Teaching Artist programs). Like everyone, they have had to make adjustments and experiment with different strategies, but now that they are over a month into distance teaching, they have a lot to share!
There are so many factors that go into teaching online that this entry will be split into two parts. This one focuses on basic set-up and technology, and Part 2 will focus on teaching strategies, challenges, and motivational tools. 
Meet the contributing teachers!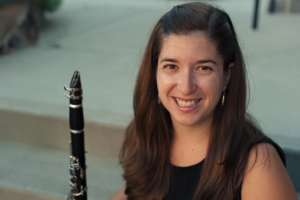 Erica Cherry
Clarinet and piano
Ages 6 to adult
Harleysville, PA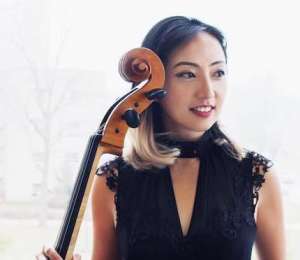 Diana Wuli
Cello
Ages 9-78(!)
Melbourne, Australia
some students in the US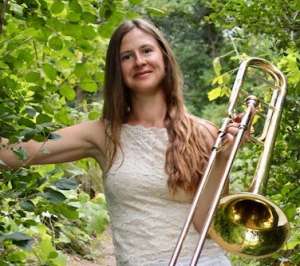 Emmy Rozanski
Trombone, euphonium, & tuba
Ages 10 to adult
Milwaukee, WI
Check out her picture book Mr. Fitch Joins the Band.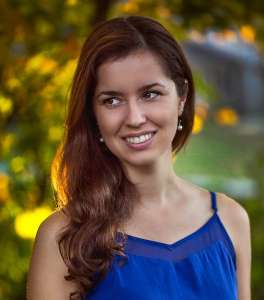 Aniela Eddy
Violin
Ages 4-18
NY, NY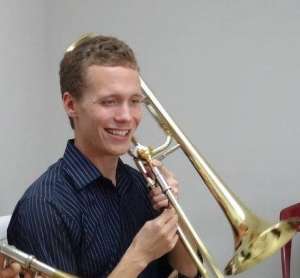 Stephen Hughes
Trumpet, trombone, euphonium, tuba, & piano
Ages 3-22
Public school band, orchestra, and jazz band
Santa Barbara, CA
Basic Set-up
The key to a good set-up is to keep it simple and comfortable and to make sure that you and your students can easily see each other while talking and also playing. Emmy's set-up for brass lessons is thought-out but simple: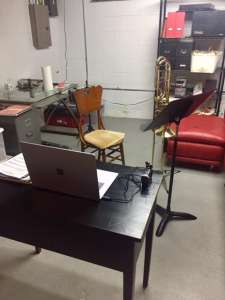 I have my computer on a desk. I can sit facing the computer to watch students and then turn to my left to play for them. I have a stand with the music they are playing so I can demonstrate for them.
This may require some flexibility, especially if you have to be mindful of space and noise! Stephen shared:
I live in a very small, one-room apartment, so space is at a premium. I set a computer up on my bed, framing myself against a wall with a keyboard and Dizzy Gillespie poster. I keep a brass instrument and practice mute within reach for demonstration purposes. While it is very soft, students haven't reported a problem hearing me when I play, even using a mute.
Of course, set-up will vary a lot by the instrument. Violinist Aniela is also keeping it simple:
I am using an iPad to communicate with students… I find it most comfortable for my neck and shoulders if I place the iPad on a music stand so that it can easily be adjusted to the perfect height and angle when looking at the screen.
With larger instruments, it may be helpful to be able to set up farther from your device. Cellist Diana suggests using an extra screen if at all possible:
I'm casting my screen onto the Apple TV which is connected to an external monitor. It's worked very well so far, as I'm able to see students much clearer, and listen through the tv speakers…I just happened to have an older tv monitor around, so it worked out perfectly, but you can connect to any monitor/screen/tv via HDMI or any other casting device.
Video Platforms – and how to improve the audio quality of Zoom!
Zoom is the most popular, but some teachers are using FaceTime and Google Hangouts.
According to Erica:
There has been a lot of discussion online about which is "best," but honestly, it is a huge advantage to be flexible and to be able to switch between.
One big thing you can do to improve the quality is adjust the Zoom audio settings if you are using it on a laptop! Uncheck "auto adjust mic volume", turn on the option to "enable original sound", and disable both options to  "suppress background noise".
This suggestion came from Diana and Emmy, the second of who sent screenshots of how to set it up!
Other Software
Some teachers have been experimenting with other programs to help their students practice and learn on their own. Stephen registered his school for Breezin' Thru Theory and SmartMusic, both of which are currently free for schools impacted by COVID-19.
SmartMusic allows my school ensembles to play along with Midi recordings, both with their parts and the rest of the ensemble. It also has method books I frequently use for brass lessons, so if I have students in both my ensembles and private lessons I can use that to help them keep time.
He has also been using Acapella, GarageBand, and Logic to record and create MP3's of his students' pieces to help them practice, and he suggests keeping a metronome running in the background so they can easily understand the rhythm and beat placement.
For strings –
I've recommended tunestrings.com to my orchestra students, who have impressed me by snapping only one string so far (knock on wood)!
Some of these apps are designed only for Apple devices, but there are similar ones for Android devices as well. If you are curious about these programs but unsure of how to get started, start with the way you look up anything these days, on Google or YouTube! Both can lead you to instructional sites or videos that break down the steps for using these programs and many more.
External Microphones
Many teachers are using the built in mics on their computers or tablets, but some find their teaching greatly improved by using an external mic or asking their students to use an external mic. There are a large range of options and price points, but here's what some of these teachers are using:
For you:
Zoom recorders (no relation to the Zoom video platform) – Erica and Stephen are respectively using the Q4 video recorder and G6 audio recorder to record practice tracks for their students or plugged into their laptops as external mics.
Rode NT USB Microphone (~ $170) – Diana's recent investment, which she highly recommends
For you or your students:
Samson Meteorite microphone (~ $35)
Blue microphones – Snowball (~$50) and Yeti (~$130)
Please note: We are not intending to advertise these products, just sharing what's working right now for these teachers. If you are looking to do more research about external microphone options, we recommend looking at Wire Cutter's article on USB mics that plug into a computer (like those listed above) and Microphonebasics.com's articles on external mics for iPhone and Android phones.
While these options are available, some teachers also recommend keeping things as simple as possible for the students. Aniela says
Some of my students have invested in microphones and I have noticed that this does improve the sound quality on my end. However, I haven't specifically asked any of them to upgrade to this possibility. Although it makes a difference when listening to the subtlety of colors in the sound, I haven't had huge issues with sound and I want to maintain as simple a transition to this format of learning as possible.
Further Inspiration
Remember that you can use the technology to maintain your relationships with students and to also try new things to keep them motivated. Diana suggests:
Create a recording project with your students! Record and layer individually, and combine it in a video/movie editing app. The students really enjoy this!
Emmy shares a few different ways she has been using technology to enhance her teaching:
Since we can't play duets together live I have been recording duet parts and sending them to my students so they can play duets with me during their practice sessions. I've also recorded some video tutorials that students can watch at any time. These are usually demonstrating a particular exercise or skill. Another helpful tool has been a scanner app on my phone. I can quickly scan music and send it over my students.
She also includes a gentle reminder:
Learning a lot of new technology can be overwhelming so I think it's important to have fun and realize that you are doing good work even if there are some glitches.
And finally Stephen reminds us to prioritize the personal connection that is the reason that many of us enjoy teaching so much:
Even during piano lessons, I ask students to frame themselves in a a way that allows me to see them, not just the keys. I do the same. During classes, I check in with every student when they "enter the Zoom meeting", and talk to each of them individually before the end of class. It's really important students feel that connection to you, especially with all of [them] under quarantine.
I hope that these five have inspired you as much as they have me! Check out Part 2 for strategies on motivating students, overcoming the challenges brought on by distance and video learning, and to see what these teaching artists are enjoying the most about their virtual lessons.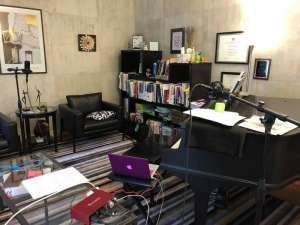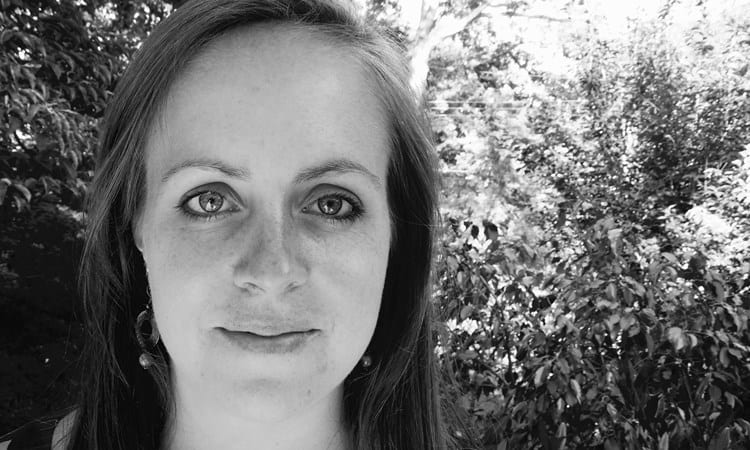 Double Bassist Andrea Beyer is an avid performer, teacher and advocate for using music as a tool for social growth. As an orchestral musician, Andrea has performed in concerts at Carnegie Hall and Lincoln Center, as well as national halls in Central and South America and Asia. A fellow at the New World Symphony from 2017-2020, she gained a passion for creative concert design when she conceived of and presented concerts geared towards new audiences, including "Face-off: Battle of the Instruments" and "Music from Beyond the Wall." 
Outside of the orchestral world, Andrea is a passionate teacher and is on the faculty of Bass Works, a summer double bass program in Baltimore, Maryland. She is also the Public Relations Director and a Workshop Coordinator for the MusAid Organization, which supports music programs in under-resourced countries with volunteer music teaching workshops. Andrea holds a Bachelors Degree from Oberlin Conservatory where she studied with Thomas Sperl and a Masters Degree from Yale University where she studied with Don Palma.
Currently based in Austin, Texas, you can connect with Andrea at andreabeyerbass.com or find her on Instagram @wandering_bassline.