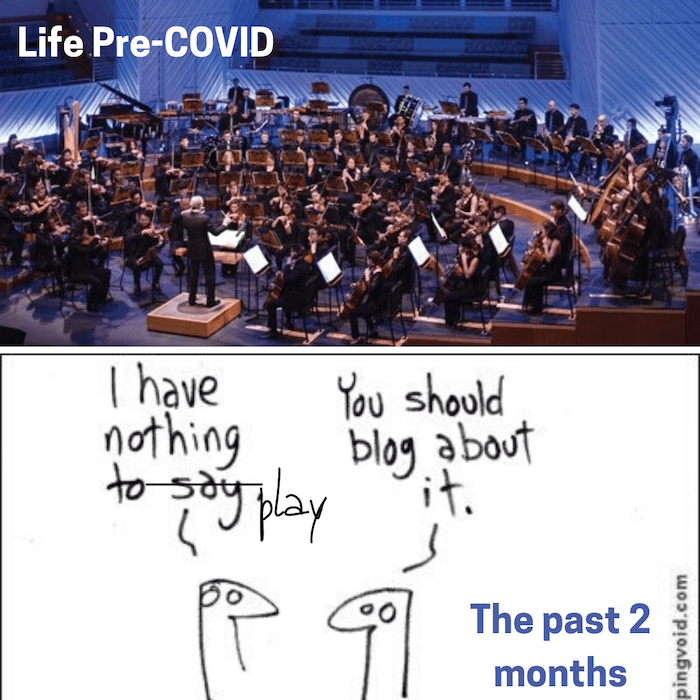 Two months in lockdown and everything still seems like a metaphor to orchestra life.
4 insights from an orchestral bassist on taking over a blog during a pandemic
1. Say yes, even if it's just to your own idea.
We've all heard the advice to "say yes to everything" regarding gigs and networking opportunities, but it's hard for me to apply it to other parts of my life, especially since going into lockdown (and the start of the COVID emotional roller coaster that I don't think I'm alone in riding). About a week after my orchestra first cancelled concerts, the idea popped into my head that I would like to do some writing. I initially pushed it back, doubting:
that I was capable 

that I was ready to commit the time 

that I could produce anything that anyone might want to read 
However, as the reality of lockdowns set in, the idea kept pushing its head through. I realized:
I want to connect with other musicians

I am craving a creative project

I have extra time on my hands

I am happier when I feel busy 

I had access to AuditionCafe as a platform to post on (this was just luck)
So I gave in and said "yes" to my idea, starting with a topic that I was excited to write about; cool projects of female musicians.
Saying "yes" can be hard
In encouraging you to "say yes," I hope I do not seem insensitive to anyone's current mental state (and I also believe strongly in the importance of saying no). We are all affected by and coping with the current state of things in different ways, and it's good to recognize that. Our own reactions may also be changing often, and that's okay too! In spite of my "hashtag COVID project" that might look like I'm trying to impress on Instagram, I have also had anxiety-filled days thinking about my future as a classical musician and struggled to be productive. Posts like this have resonated with me a lot: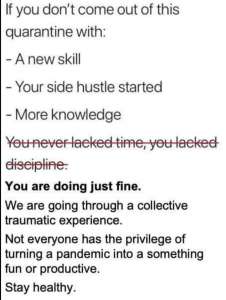 That being said, when I do feel inspired to be creative, I'm realizing that it's important to latch onto it and see where it takes me! 
Like saying "yes" to a gig, starting work on this blog has also helped me to connect with people I wouldn't have otherwise. 
This pleasantly surprised me! I learned that I love talking to people for interviews, and people I have not been in touch with in a long time have reached out after reading one of these posts. I also shocked myself by being able to add something to my portfolio during this time. (While I do NOT think this is necessary, it does feel important to me right now, as I just finished my fellowship in the New World Symphony and am attempting to launch myself into the freelance/nonprofit world). 
2. Deadlines help you move forward
We all know how preparing for auditions and performances can push us to improve oufr skills to new levels, but I was surprised to realize that deadlines help my mental state as well. Being unemployed means not having a weekly schedule and makes the passage of time just feel weird. No one is holding me accountable for publishing this blog every Tuesday, but having that date in mind has given some structure to my week. The "need" to get it done has also given me a sense of purpose and pulled me out of low points of the aforementioned COVID emotional roller coaster more than once. 
For more on this, check out these articles on why COVID-19 is wrecking havoc on our emotions, and how productivity can help with depression.
This realization has prompted me to give myself deadlines for other things and to try to stick to a weekly practice schedule. Without outside confirmation of my productivity, I'm taking even more pleasure from checking things off of a to-do list, even if it's just responding to an email that I've been putting off or masking-up and going to the grocery store.
3. Recognize your role
When we play in orchestra, we are constantly changing roles. The bass section may have one phrase of harmonizing with the cellos, then one phrase of providing downbeats and keeping time, then one phrase doubling low brass, and on and on. Just as I try to understand the bass sections' ever changing function in the orchestra, I have tried to adjust the blog to serve what I think other musicians need right now. Right now we are facing an unprecedented level of uncertainty, and everyone is handling it in different ways.
This includes knowing when to support others in their roles 
Maybe this comes from my love of sitting in the back of the bass section and feeling like I'm part of the orchestra's foundation (I do NOT consider myself a solo player), but I have realized that I love sharing what other people are up to now. Posting the creative ideas and projects of people I know and seeing their reactions has probably been the most rewarding part of this process. 
And people want to share!
Colleagues and strangers alike have surprised me with their eagerness to contribute to posts, as well as the thoughtfulness and length of their answers, to the point that I have had to apologetically trim down answers. I think the response that it pained me to cut the most was written by New World Symphony percussionist Charlie Rosmarin for the entry Reflections on Life Without Auditions.  His response to a question about a typical day pre-COVID-19 was priceless:
I would bike to my dearly missed concert hall, hugging and hand-shaking people the whole way in. How many times did I walk past the guard desk's bottle of Purell, shirking my right to a free, obsessive-compulsive pump? These were carefree times.
With all of this in mind, I would love to take requests of what you want to read about now, or to share what you yourself are doing!  Please reach out – fill out the survey to request topics or contributors, tag us on Instagram, or just send us an email! 
4. Take the risk of being heard
This can also be a hard one for me in the orchestra. When I first joined New World, I was coming from 18 months of living abroad and teaching in socially driven music programs where the only orchestral playing I did was with my students. Arriving at New World, I was jumping in mid-season, and I often felt so self-conscious that I was terrified of being heard. (I know that might sound ridiculous since the whole point of being a musician is to make meaningful sound). 
Of course, with time and practice, I became more comfortable belting out my part (for better or worse), but for anyone playing in an ensemble, being heard can feel like a risk. No one wants to be the one to enter first or play in a rest, even though we're all guilty of it sometimes. However, most of the time risking being heard means contributing a musical idea and providing substance. And sometimes a musician stands out where they don't mean to, but their section often (at least in rehearsal) still appreciates that person's decisiveness.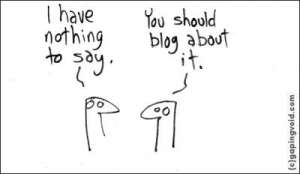 Writing this blog also feels like a risk.
I have not done anything like this before, and I'm not only putting it on the internet for anyone to see, but for some reason promoting it and asking people to read it. I have no qualifications that deem me worthy of putting my thoughts in front of you, I just had this idea that I wanted to share some things and am hoping that you might relate to it or find it useful in some way. 
Right now, we're cooped up and isolated and prevented from doing what we've been working hard to do for our entire lives. This is scary and not fun and just plain hard. However we will get through it! Our experience as artists has already taught us how.
If I have discovered anything from writing this, it's that the risk is worth it. Go ahead and try to connect with people and let yourself be heard! In whatever way you feel comfortable, even if it's just for you or to connect with just one person. 
Thank you for hearing me. Stay well. 
P.S. – I really meant it about wanting to take suggestions for blog content! To request topics or suggest specific people that you would like see write a guest post or give an interview:
TAKE THE (extremely brief) SURVEY
By responding, you can enter to win a freshly roasted bag of coffee beans!